Welcome to the National Payroll Week History Page :-
CME has been a keen contributor to National Payroll Week (NPW) since 2004. Each year CME takes this opportunity to raise the profile of their profession, spread the word about the annual theme and make a charitable donation.
In 2018 – Gemma took to twitter to share her own National Payroll Week Celebrations – Via the Colchester office. Gemma's dog took part and so did her desk figures.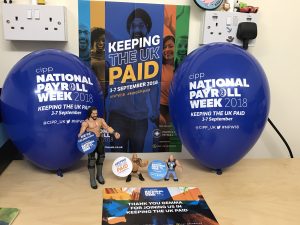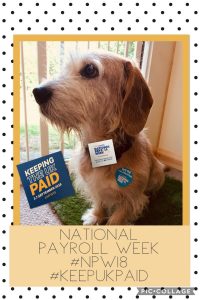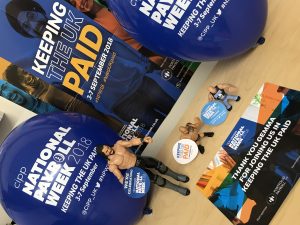 Here at CME we are always finding ways to celebrate NPW as you will see below of our history of our past celebrations.
In 2017 The CME Personnel Consultancy Ltd has always celebrated NPW with a donation to a good cause and in this special year (the thirtieth anniversary of the founding of the payroll bureau), the NPW theme of 'Spotlight on payroll' was very suitable. Managing director Caroline Elsey is a keen theatre-goer with a very strong bias towards pantomime, so the decision was taken to sponsor the second year of the Great British Pantomime Awards. Caroline says there is no better relaxation for a hardworked payroller than a good British panto and she should know as she saw thirty six in the last season. The inaugural Awards event was held at the theatre cafe in Shaftesbury Avenue earlier this year and the 'Spotlight' selfie poster in picture shows Christopher Biggins with Caroline and with Sharon D Clarke (the winner of the Best Female Baddie).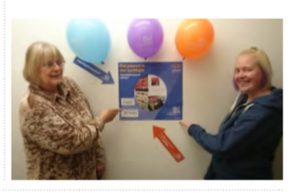 In 2016 Caroline Elsey of the CME Personnel Consultancy celebrated National Payroll Week at Annie's Bar & Bistro in Southend-on-Sea. CME has processed payrolls for Ann and her various businesses for almost fifteen years. Caroline spent a happy afternoon talking to staff about payroll and financial matters. Ann was delighted with the gifts Caroline presented – the shopping bag, pen, coaster and sweets. In line with CME's normal practice a charitable donation was made in honour of NPW. This year the staff unanimously voted to readopt the vultures at Colchester Zoo. CME originally made the adoption in 2014 as vultures have historically had as bad a press as payroll people

In 2015 Caroline Elsey embraced the theme of financial education in not one, but two contributions.
The recipient this year was one of CME's clients, Trust Links. This charity is based in Southend-on-Sea and "was created to enable people to work together to improve mental health and well-being and promote, support, inspire and cultivate wellness and sustainable living"
CME last donated to Trust Links in 2006 when we presented them with several giant sunflowers with twenty pound notes stuck on the petals.
This year, an easel and accessories were given to the Growing Together Project for use in their new environmentally friendly classroom. This classroom was transformed from a shipping container and has a green roof designed to encourage wildlife . It also has outside walls that host insect habitats and was opened by the Mayor of Southend during NPW.
The classroom will be used for support group meetings and classes for the charity'
vulnerable clients. Matt King, Chief Executive of Trust Links, said "The easel, flipchart and pens will be useful additions to the classroom and greatly assist learning". He added "Financial planning is a major part of ensuring that our clients are able to live in today's pressured world".
After her visit to the Trust Links garden,Caroline joined members of the Leigh-on-Sea Business Luncheon Club where she set a payroll quiz and gave a presentation on payroll. She spoke about the changes which have happened since she joined the profession. The history and aims of NPW were covered and on the subject of AE, Caroline also told her audience about the new initiative, Pensions Awareness Week which follows directly on from NPW.
"National Payroll Week is a very important part of our year" explained Caroline "it gives us an opportunity to spotlight the vital work done by payroll professionals as well as giving a chance to make a difference in the local community"